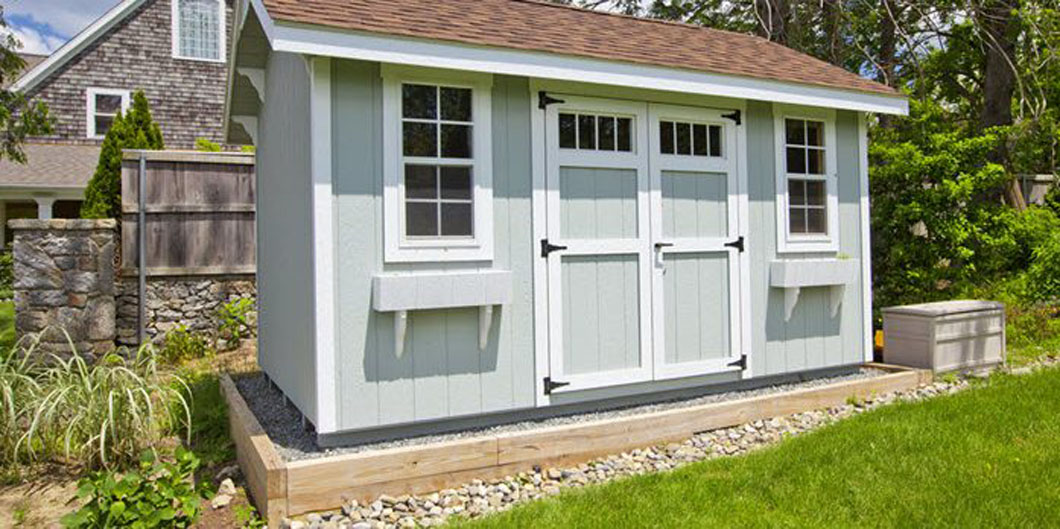 The backyard shed, often a simple structure with the completely utilitarian purpose of storing garden tools and supplies, has come into its own of late. Inventive, creative homeowners consider renovating an existing shed and giving it new life and new purpose or they envision building a completely new structure intended to meet their exact needs. A garden shed can serve a variety of purposes and take on its own unique look and life, all while providing pleasure and value for the homeowners who use it.
A shed can serve a multitude of purposes. Consider these: remote office/work location; art, pottery, or photography studio; fitness or yoga space; children's playhouse; music room; craft or woodworking space; greenhouse; teen hangout; sports equipment organizer; quiet retreat for reading, relaxing, sipping tea or wine – whatever you can imagine.
Even the most basic, unfinished shed can be transformed relatively inexpensively. A basic shed painted in bright colors makes the perfect playhouse for young children. But, if you have a different use in mind, you'll also have different building requirements, which can add to the cost. For example, how much light do you need? Do you want windows and/or skylights? How do you want to cover the walls? The floor? The ceiling? Do you need heat? Electricity? Then, once the structure is complete, will you paint it inside and out? What type of furniture do you need? What other functional items, such as shelves or other storage area are needed? What will the exterior area around the shed be – a garden? A bed of stone? So many options…
If you already have a shed or gazebo in your backyard, and it's in the right place and in good condition, repurposing the structure could be a relatively easy and inexpensive project. On the other hand, if you're looking to start from scratch to build the garden shed/bonus room of your dreams (or use a customizable pre-fabricated kit), you'll have some decisions to make.
Location of your new shed is important. Do you want to be farther away from the home, where you can enjoy privacy and quiet? Do you want to be under the shade trees to avoid the summer sun? Or do you want to be closer to the house, or even attached to it?
The size of the shed is another important consideration, and how you plan on using the shed will help you determine the size you need. Next you'll need to decide on the material you'll use to build the shed. Sheds are typically built of wood, but metal, vinyl, and resin are other options. To help you decide, different materials provide different benefits, such as resistance to rot, rust, and insects; strength, durability, and weather resistance; customizability; and level of maintenance required. If you want your shed to last a long time and perform as desired, quality matters. Doing homework in this regard can pay off in the long run.
Whether you're considering building a new shed or updating an existing one, put your imagination, ingenuity, and innovation to work, and you'll soon be enjoying the added beauty, space, and function your new or updated shed provides. Even if you want to keep your shed's original identity and purpose of storing garden implements, you can still update the structure with architectural, decorative, or color changes that turn the plain into something pleasing to the eye that complements the overall look of your home and garden.
DC Complete Building Company, Inc. has years of experience in home building and renovating. We are available to consult with you on your next construction or restoration project. Call DC Complete today at 810-407-1771.